Grote Industries Recibe el Premio Masters of Quality Supplier Award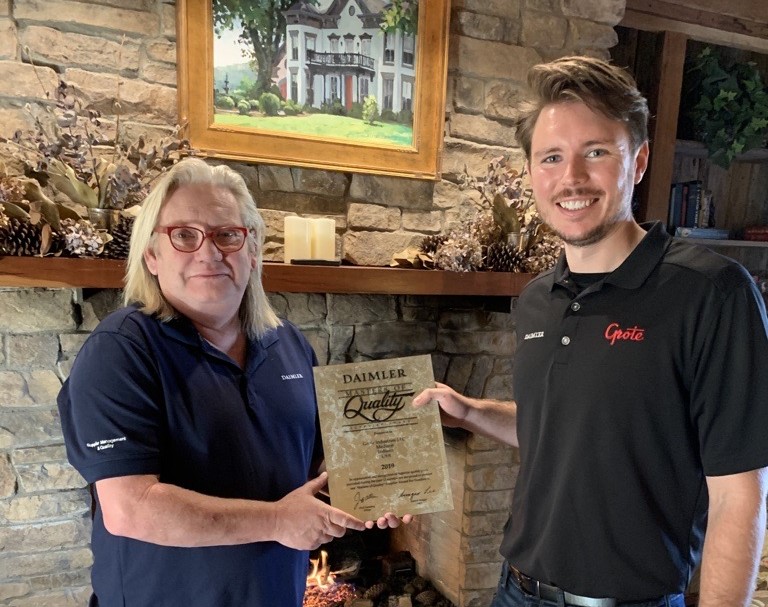 Grote Industries, un fabricante líder de soluciones avanzadas de iluminación y sistemas de seguridad para vehículos, recibió el prestigioso premio Masters of Quality Supplier Award de Daimler Trucks North America (DTNA) en una ceremonia virtual hoy.​​​​​​​ DTNA, el fabricante líder de camiones para trabajo pesado en América del Norte, reconoce anualmente a los proveedores sobresalientes que constantemente obtienen puntajes altos basados en su calidad, entrega, tecnología y desempeño de costos.
DTNA sigue pautas estrictas al elegir qué empresas recibirán este honor. Solo aquellos proveedores que demuestren una dedicación a la mejora continua de la calidad de sus productos, el apoyo a DTNA y el rendimiento general tienen una oportunidad de ganar. De acuerdo con la tradición de calidad y el compromiso con la excelencia de Grote, este es el tercer premio Masters of Quality Supplier Award que la empresa ha ganado. Según el presidente y director ejecutivo Dominic Grote, "los Masters of Quality no se tratan solo de cuán buenos son nuestros productos o cuán bien funcionan para nuestros clientes, se tratan de cómo hacemos negocios. Es toda la experiencia del cliente que brindamos a Daimler".
Debido a que Grote suministra más de mil productos diferentes a DTNA, es una prioridad máxima que la calidad y el servicio al cliente sean tan confiables como los productos. "No hay duda de que casi todos los miembros del equipo global de Grote tocan a Daimler de alguna manera", señaló el director global de calidad de Grote, Neil Clayton, "y su compromiso con el cliente ha dado como resultado este merecido reconocimiento".
Desde la fundación de la empresa en 1901, el nombre Grote ha sido sinónimo de calidad. Recibir el premio Masters of Quality Award de DTNA por tercera vez refuerza aún más lo que ya es de conocimiento común en la industria. El equipo de Grote es un apasionado de lo que hace; y esa pasión y compromiso es lo que los separa de la competencia. Frente a los difíciles desafíos de otras marcas globales que compiten por este galardón, Dominic Grote ve a los Masters of Quality como una clara señal de lo que Grote tiene para ofrecer. "Este premio es en verdad una reseña comercial completa", dijo, "y un fiel reflejo de nuestro desempeño. Estoy muy orgulloso de que nuestra organización haya recibido este reconocimiento". A medida que la relación con DTNA y otros OEM importantes continúa creciendo, Grote espera oportunidades continuas para cimentar el título de Master of Quality.